Shopify is an e-commerce platform that allows physical businesses to create their own online shopify store and sell products directly to customers. With Shopify, you can easily set up a website, manage payments, track orders, and more.what you have to do is to simply create shopify account and list the products you want to sale. Moreover, you can become a shopify partner to earn money without investment.
It is a great solution for entrepreneurs and small business owners, who are looking to easily set up an online store. There is nothing to worry about the technical aspects of running an online store. If you're interested in selling your products and need a complete guide on how to create shopify account, here's a general overview of the steps you'll need to follow to get started. Also, there is complete information about shopify partner program.
How to sell on shopify?

Go to Shopify's website and sign up for a shopify account. You can start with a 3 month free trial to explore the platform and see if it's right for you.
Choose a plan to make shopify account

Shopify offers a range of pricing plans to suit different business needs and budgets. Choose the plan that's best for you based on the features you need, the number of products you plan to sell, and your budget.
Set up your store
Once you've signed up and chosen a plan, you can start customizing your store. You can choose a theme or template, add your logo and branding, and set up your payment and shipping options.
Add your products
To start selling your products, you'll need to add them to your Shopify store. You can add products manually, or import them using a CSV file.
Set up your payment and shipping options
Shopify offers a range of payment and shipping options, including Shopify Payments, which allows you to accept credit card payments, and a range of shipping integrations to help you manage your shipping and fulfillment.
Launch your store
Once you've set up your store, added your products and configured your payment and shipping options, you're ready to launch your store and start selling.
Promote your store
To attract customers and grow your sales, you'll need to promote your store through social media, email marketing, search engine optimization, and other marketing channels.
Click Here if you want to know the marketing strategies.
Overall, Shopify makes it easy for businesses of all sizes to start selling their products online. With a little effort and dedication, you can create a successful and profitable e-commerce business. Shopify partner programs is also the most preferred choice of experts to earn money.
Creating a Shopify account is easy and straightforward. This guide will walk you through the steps to create your own account, so you can start selling products online quickly.
How to create Shopify Account?
Here's a step-by-step guide on how to create an account on Shopify:
Go to Shopify's website at www.shopify.com.Click on the "Get Started" button.
Enter your email address, password, and store name in the provided fields.
Click on the "Create your store now" button.
Fill out the information on the next page, including your personal details and business information.
Click on the "Next" button.
Enter your address and phone number in the provided fields.
Click on the "Enter my store" button.
You will be taken to your Shopify dashboard, where you can begin setting up your online store.
That's it! Once you have created your account, you can start customizing your online store, adding products, setting up payment options and launching your business.
Click here if you want to get E-commerce website to attach with shopify account.
What can I sell on Shopify?
You can sell a wide range of products on Shopify, including physical goods, digital products, and services. Are you thinking that what you can sell, here are some options to get the point:
Physical products such as clothing, jewelry, electronics, and home goods.
you can sell Digital products like eBooks and softwares.
Services such as consulting, coaching, and design services.
Subscriptions and memberships, such as a monthly subscription box or a premium content membership.
Drop shipping products, where you act as the middleman between the customer and the manufacturer, and only purchase the products after the customer has placed an order.
Overall, Shopify provides a lot of flexibility in terms of what you can sell on its platform, making it a great option for businesses of all sizes and types.
What is shopify partner?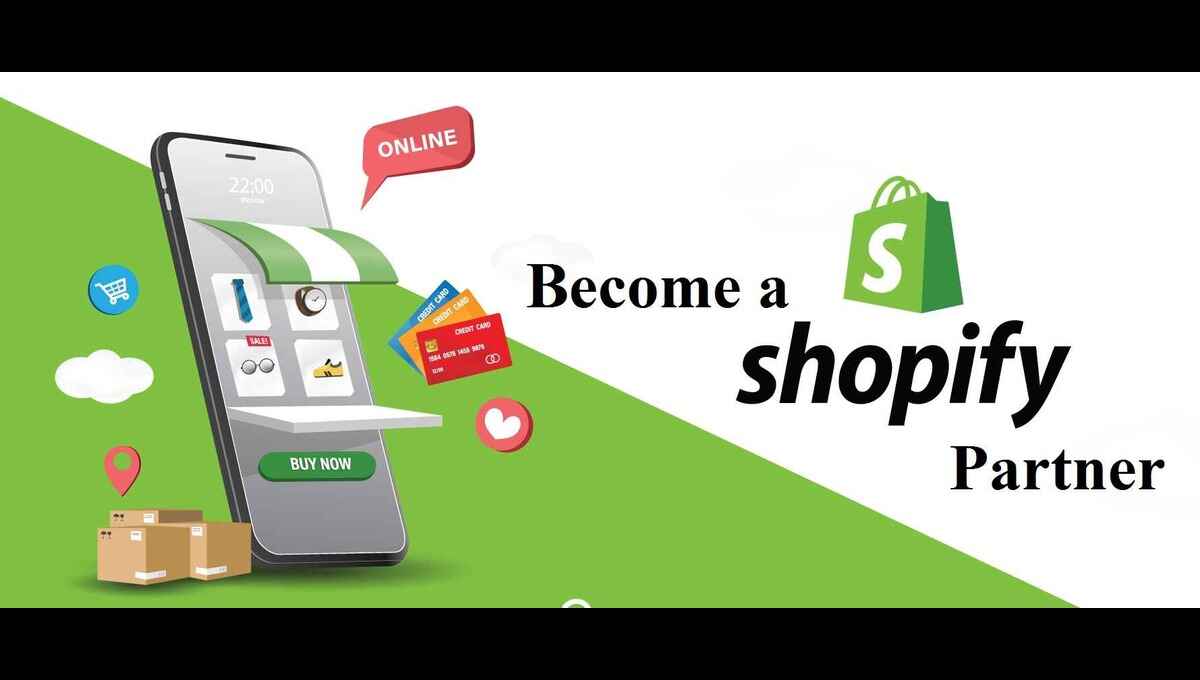 Shopify partner program is basically that you can earn money by helping the merchants to grow their business. Social media influencers, coding experts, marketing experts, freelancers and photographers can become shopify partner by signing contract. If you are expert of any one of the above services, you can earn good profits by joining shopify partner program. Shopify partners earn commission in reward of the sale that they generate by boosting the business.
Why should I choose Shopify to sell my products?
Shopify is a popular and reputable e-commerce platform that offers a range of features and benefits for businesses looking to sell their products online. There are many reasons to prefer it over other platforms:
Easy to use & Customizable
It has been designed to be user-friendly and intuitive, which means you can set up your store and start selling your products with minimal technical knowledge or experience. Shopify also offers a wide range of customizable themes and templates, which means you can create a unique and branded store that reflects your business's personality and style.
Secure & scalable
Shopify provides secure payment processing, SSL encryption and fraud prevention measures, which means you and your customers can feel confident that your transactions are safe and secure. It can accommodate businesses of all sizes, from small start-ups to large enterprises. As your business grows, you can easily upgrade to more advanced plans and features to meet your changing needs.
Marketing and SEO
Shopify offers a range of marketing and SEO tools, such as social media integration, email marketing, and search engine optimization, which can help you attract more customers and increase your sales. shopify partners can also help to boost business.
Mobile responsive
Shopify's themes are designed to be mobile responsive, which means your store will look great and function smoothly on all devices, including smartphones and tablets.
Overall, it is a powerful and versatile e-commerce platform that can help you sell your products online, reach a wider audience, and grow your business. This blog is actually the answer of how to earn money from shopify!
No doubt, it is a leading online earning platform, but the thing is that you must have to invest your time in it. Do not lose patience instead keep it up.
Click Here to read the detailed article on other online earning methods.